COUTURE INSIGHT
If you viewed this page, you have questions and a deeper interest about the way Couture works, and each step that gets put into every couture piece. If you know anything about fashion, or pay attention to what goes on in the Fashion Industry even for a little bit, you've heard the words Haute Couture. So will start with the differentiation of Couture and Haute Couture, since it is often misinterpreted and questioned. The word Couture is French for dressmaking, while Haute means high. Making the garment created for the client a specific one of a kind piece.Which is the same for both, except for these qualifications, The designer should then have an atelier in Paris,with twenty plus, full time employees, two hundred plus hours of hand labor and finally, a collection of thirty five day and night looks, for each season. While Couture is 80% fashion that is constructed by hand, high quality, expensive, often unusual fabric, sewn with attention to detail, finished by the most experienced and capable sewers, using time consuming techniques.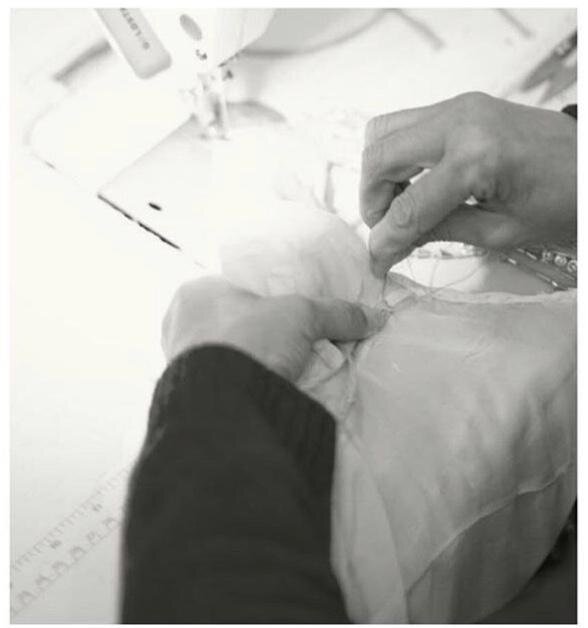 HANDMADE
There is so much more to the simple word, handmade. It is a design, Made-to-order, meaning it requires two or more fittings. Every seam must be perfected on the clients body.With so many details that goes in the process of a gown, like corset construction itself, it is time consuming. Having every stitch in our atelier radiated with elegance.Why? not only is every piece treated with care and delicacy but, the client looks and feels exactly that way in our piece. Let alone the high valued fabrications we choose and order from Europe & India.
THE COUTURE FITTING
Our Couture gowns are part of our creative process In which, Karen, works closely with her clients and incorporates their ideas and wishes throughout this process. In our in-house atelier located in New York, Each client is measured to an exact, ensuring the perfect fit with the highest standard of work. With that being said, the first consult comes about. In this process colors, fits, fabrics, details and sketches are discussed and decided. Once everything is confirmed the embroiderers come in place. Upon receiving their countless hours of work, the under lining color and fabric are chosen. Sometimes, it may take 3 to 4 layers to perfect. After that, comes the third and final fitting. Where all the finishing touches are placed and overlooked like the zipper seam, hem and final embroidered placements. Being an made to order in-house atelier if needed by clients request, minor changes such as hem and neckline can be made. The inside of our gowns are important as the outside. Having all final adjustments, if need be, completed by hand work. Making every detail significant, no matter how minor, as every detail completes a part in our Couture gowns.
QUALITY OVER QUANTITY
After reading and understanding, the depths of each detailing that requires precision and perfection it should come to no surprise, that with each type of couture piece It can start at $10,000 to $60,000. Due to these prices, the Couture Industry is limited. Making your piece even more valuable, authentic and unique.
EMBROIDERY WORK
Below are some images, showing the process and details it took the embroiderers to complete one of a custom couture gown, as seen above
We, at the Karen Sabag Couture house, hope you appreciated and enjoyed this segment, and would love to be part of your special occasion. To do that,kindly head over to our appointments page, to fill out a small survey to get an understanding of what you are looking for! You are just one step away from your very own Consult with thee Karen Sabag.
With love, The Karen Sabag Team